Custom fields are what makes BluePrince so flexible and powerful in government software.  They are used for tracking items that are not built into the core of the BluePrince software, these fields can be added at any time from implementation to go live and a virtually unlimited number of them can be added.  This guide goes through the basics of adding them to your setup and we will be adding a multi select field for a sprinkler system type to the Permit field
Log into BlueConfig and select Custom Fields from the panel on the left.
Choose the Form/module of BluePrince that you want to add your custom field to. For this guide we will be adding a new field to the Permitting section. After you have selected permit either double click on it or click "Configure Selected" from the button on the right and the Custom Fields configuration form will open up and look like this:
Click on the New Button on the right, the Custom field configuration form will pop up and it will be time to configure our "Sprinkler System Types" field.
Below is an example of a configured Custom Field. There are a few things to keep in mind.

The Field Name has to be unique
If You leave the permit type blank it will apply to all permit types
If you don't Check the "Update Existing Records" check box at the bottom you wont be able to configure this custom field on permits created prior to configuring this Custom Field.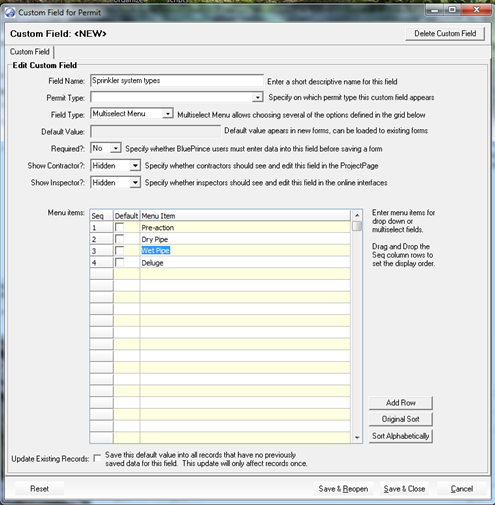 Now make sure you click "Save and Close" on the bottom of the form and our "Sprinkler System Type" Custom Field will be available in BluePrince. Restart BluePrince and we will see this option available on the Permitting custom field tab: